WIMCOM supports Armed Forces / Public Clients during concept development as well as implementation
For Armed Forces / Public Clients, WIMCOM develops concepts and conducts non-technical studies e.g. for supply-chain management/ logistics. On demand WIMCOM also supports during roll-out/ implementation.
WIMCOM, throughout the last years, managed to establish a team of experts, consisting of former military officers and civil servants as well as executive personnel from the industry. This team knows the requirements of the Armed Forces and procurement agencies in detail and is able to develop modern and efficient solutions. WIMCOM has a high affinity for solutions ready to be implemented and is willing to support with a "hands-on" spirit.
Compliance and adherence of codes of conduct, internally as well as externally are the foundation for our entire work.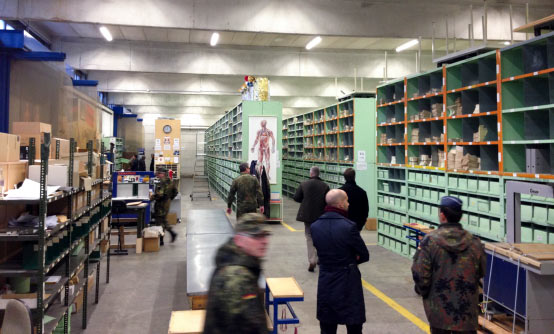 References – Armed Forces / Public Clients (Excerpt)
Support in project management:
Preparation of the negotiation of annual program, drafting of textual contributions for project lead, quality management, risk management, obsolescence management, methods & procedures
Make-or-Buy scenarios for military tasks:
Concept development for the procurement of tasks which are not core competence of the public client.
Profitability assessment:
In the area of complex services for the public client (AS IS – TO BE).
Preparation of analyses of capability and deduction of requirements.
Preparation and auditing of input to phase documents
Evaluation of the military market:
Evaluation of available products and services (COTS / MOTS)
Support of the German Armed Forces in theatre:
Preparation of a guideline handbook for companies that offer services for the German Armed Forces, during missions in foreign countries.
Contractor support to operations (CSO):
Assistance on concept development for supportive elements during deployment / redeployment
Development of military logistic solutions.
Study on how to optimize the storage facilities of the German Armed Forces.
Spare part-/Exchange part-Management:
Management support to evaluate disturbances and to derivate recommendations for action and measures within the procurement branch of the German Federal Armed Forces
International Forces
In addition to the NATO allies, other armies are also interested in the products and services of German and other European defense companies.
If a foreign state expresses interest in cooperation or a company is interested in doing business with these states, WIMCOM will always first check compliance with NATO and its member states' interests, respect for human rights, and compliance with possible support with the company's compliance policies.
Only when there are no political, legal or ethical reasons against supporting non-NATO and EU forces, WIMCOM will consider consulting these international forces or companies in those countries.
When in doubt, WIMCOM has in the past always consulted with the Foreign Office or the Department of Defense to seek their advice. This is especially in assessing countries or regions that are sometimes subject to very rapid revolutionary or reactionary processes that make it difficult for outsiders to assess the political and legal situation.